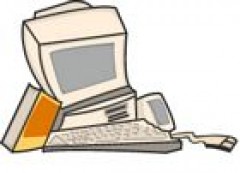 I'm so glad you've agreed to meet with me today, Blogosphere.
I didn't have much choice. You kept googling me.
Yes, well, *hum* I wanted to reach out to you and get your thoughts on how I can build my author brand. I envision this as an informal brainstorming session, if you will.
I think you should finish your next book.
You are, after all, the expert on this kind of thing, as well as being a vast repository of knowledge in general.
You could write more books after you finish this one.
So, *flips pages* Let's begin with Facebook. Should I purchase "likes" for my page? Maybe one of those ads that annoy everyone and therefore gets attention? And how should I increase my "reach" and "talking about" numbers to make sure I'm maximizing my placement and message? I want to find the right synergy between transparency and publicity to facilitate interaction.
You could, you know, write more books.
Uh huh. As far as Twitter goes, do you think I should increase my involvement? I'm not sure what number of tweets per day would be most beneficial to keep my presence at its most lively. Perhaps I should mention my book in each and every tweet, to wit – "HOLD ME! I've been HOLD ME invaded by HOLD ME ants." What do you think? Perhaps I should schedule tweets every half hour to ensure my book is promoted constantly.

Maybe writing more books would be good.
I'm also focused on increasing my number of blog hits. I was considering posting a link for my blog on every page I can find. Maybe I could purchase a banner ad or – OH! – a pop up ad that covers the entire screen when someone tries to open a page. Movement and sound would also be good so others notice and ask about the ad. That would be word of mouth advertising.
There's always writing more books.
Perhaps my pop up web page ad could include a poll asking people if they think I should expand into other social media properties. If a person can't click through to the page they want to read until they take my poll, I'm certain I'll get a response.
Hey! I've got an idea! You could write more books!
*frowns* I don't believe you are taking my issues seriously, Blogosphere. And I will not be ignored.
Yes, Betsy.  If you only have one book out, you're pretty much going to be ignored..
My sense is that you are telling me to follow the "write more books" paradigm to handle this situation.
There you go.
But what about my brand?
How about "content is king"?
I was thinking "If you build it, they will come."  Should I start playing baseball like "Field of Dreams"? Isn't that the wrong demographic for romantic suspense? Or should I put Kevin Costner up as my banner image to attract the older women?
You know what? I'm out of here.
*Blogosphere leaves the post*
I could sign baseballs and give them away as swag. Blogosphere? Wait! Come back….
*Betsy leaves the post*