Welcome To Hardy Falls Book 4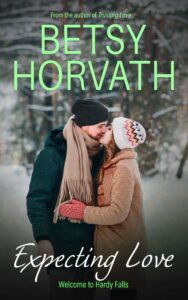 Sometimes love gives you more than you bargained for…
Although Hannah Frederickson spends a heck of a lot of time worrying about her business, owning the Country Time Bar and Grill gave her a family of friends and led her to Deacon Black. The man of her dreams hiding in plain sight.
Now life suddenly promises to get even better and offers Hannah more than she ever imagined. If only Deacon could see it the same way.
June Esperanza found a home she did not expect when she moved to Hardy Falls. And, years later, she got a second chance at love with Calvin Hardy, the only man who ever mattered.
June should be deliriously happy, not dealing with a challenge that terrifies her. And Calvin needs to back off and let her come to terms with it all in her own way.
As Christmas approaches, two couples just starting out face a new adventure with a mixture of hope and fear, love and joy. Find out if they can withstand the challenge in this heartfelt, romantic novella.
Expecting Love is the fourth entry in the Welcome to Hardy Falls series. It's a contemporary romance novella with strong language, sexy times, a little bit of shock, and a whole lot of awe. You might enjoy it more if you've read at least the first two books in the series.
Click HERE to read an excerpt.
Available Now
eBook
Paperback
ISBN: 978-1-943725-07-6