Welcome To Hardy Falls Book 2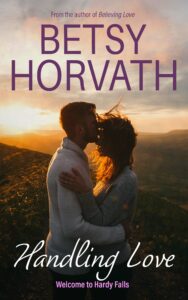 Not everything in life can be business as usual…
Hannah Frederickson never, ever, gives up. She does whatever it takes to make sure her business, a popular local tavern, succeeds. The rest of her life can wait.
So when Hannah discovers that her uncle ran off with all of her money, nothing else should matter. Especially not a stupid and intense attraction to Deacon Black, her friend and the head bartender working at her bar.
After all, Deacon might be sexy as hell, but getting close to him just raises a whole new set of problems.
Enjoy a cheekily humorous, charmingly sexy romance about two friends figuring out which way they want to go, in life and in love. When Hannah and Deacon finally understand what they should have known all along, "business as usual" flies right out the window.
Handling Love is the second book in the Welcome to Hardy Falls series. It's a contemporary romance with strong language, sexy times, a woman flailing around, and a man who's absolutely certain he wants to be just what she needs.
Click HERE to read the first chapter.
Available Now
Paperback
ISBN: 978-1-943725-05-2