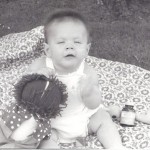 Betsy Horvath was raised on a steady diet of old MGM musicals, Nancy Drew, and Harlequin romances.
Honestly, nobody in their right mind should have been shocked to discover that one day Betsy would be writing romance novels of her own. Especially once it became clear that, when given the opportunity, she could sing the entire soundtrack from the "Sound of Music", regardless of whether or not anyone asked her to (nobody ever did), and that the only books she ever wanted to read were the ones with happy endings (which made things interesting in college).
Let's face it, Betsy is a hopeless romantic. But she's good with it.When she's not navigating the tumultuous waters of the so-called "real world," Betsy can be found sitting at her desk in the Palatial Horvath Estate, singing show tunes and writing stories about real people and their surprising journeys into love.
Her three cats like the stories, but they're not crazy about the show tunes.
Neither are the neighbors.
You can find Betsy frolicking through the verdant fields of social media at Facebook, Twitter, and Pinterest. Or feel free to drop her an email at: betsyhorvathauthor@gmail.com.