Hello! My name is Betsy and I'm a romance author. I write tales that are jammed packed full of love – heavy on the contemporary romance and romantic suspense. Even my occasional odes to coffee are brimming with love. And caffeine. And love of caffeine.
This is my home away from home and the place to get news about my current releases, read free short stories, or follow my Quest to become a successful indie author/publisher on my blog.  It's turning out to be quite a wild ride!


Fall in love with Hardy Falls!
Subscribe for regular exclusive excerpts and articles from The Hardy Falls Gazette, the internet newspaper put out by Ms. Gregory and her team of cub reporters. Pick up where the books left off, go behind the scenes, meet the townspeople, and learn everything there is to know about the little Pocono Mountains community where the Welcome to Hardy Falls series is set.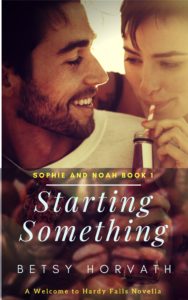 Plus, you'll also get a free Hardy Falls novella, STARTING SOMETHING, not available anywhere else!