Welcome To Hardy Falls Book 3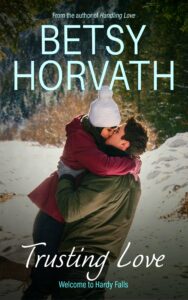 A little trouble might be just what they need…
When Josie Kline seeks shelter from a surprise blizzard at her best friend's tavern, she expects to be on her own for the night. Instead she comes face to face with a grumpy and darkly handsome stranger who claims to be there to run the generator.
Trapped by the storm, power out, Josie finds herself intrigued by her attractive and irritating companion. A really bad move considering the current state of her life. She needs to figure out her future and get out of town again, not waste time wondering about the sexy man she just met.
It still amazes Mateo Guerrero that he somehow ended up working as a dishwasher/bartender in a small town in Pennsylvania. He certainly does not need an annoying, tempting, beautiful woman blowing into his world and screwing him up even more.
Overwhelming desire and scorching passion compete with the ghosts of the past to mess with everything Josie and Mat were sure they wanted. Will they be brave enough to take a chance? Or will they just let it go by?
Trusting Love is the third book in the Welcome to Hardy Falls series. It's a contemporary romance with strong language, sexy times, and two stubborn people who get a heck of a lot more than they ever expected.
Click HERE to read the first chapter.
Available Now
eBook
Paperback
ISBN: 978-1-943725-06-9