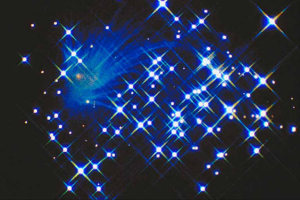 Previously on Betsy's Blog…
Betsy suffered a bit of a meltdown on her path to indie authorpreneurship and was sidetracked by her deep and passionate love of baked goods.  When last we met, Harry, the white gerbil who is the Guide for her Quest, lectured Betsy quite severely about the importance of maintaining her health.  He was very stern.
 But he was right.
It's been a little quiet here at the blog since then, but Betsy and Harry are back now.  As we join them, they are laying in a field inside Betsy's mind, gazing up at a beautiful night sky.