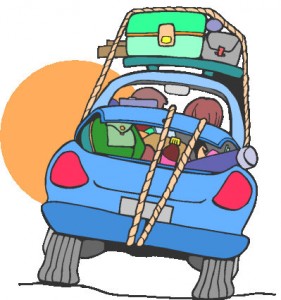 I just got back from spending a longish weekend with my sister, brother-in-law and niece. Since they live about 400 miles away from me, and are pretty rural, flying is not a good option. That meant a lot of traveling time.
It's about an eight hour drive each way, but I don't usually mind too much once I get going. Don't get me wrong – BEFORE I go, I'm a total wreck. But once I'm out on the highway I settle down until I hit traffic or construction.
I spend the first hour on the road wondering if I have the correct emergency contact information in my wallet, or why I didn't remember to make a Will before I left, or if I remembered to pack all my prescriptions. Then the hypnotism of the road takes over and I move to another mental place.
I find it very useful to travel alone like this every so often. It gives me an enforced break from the world for a day – kind of like when the power goes out or I get snowed in. As I drive, I tend to think about a lot of different things, listen to books or music, or just be with myself.
This trip I thought a lot about my writing and my life, my goals and where I was going. I thought about getting older and what my expectations are of myself. I thought of what other people think of me and how much or how little that matters. I thought about where I want to go and how I want to get there. It was nice.
I miss my sister and her family, and I'm glad to be home again among the familiar surroundings. It's a long drive and I'm still aching from the effects of being behind the wheel for that long. But I did very much enjoy my traveling time.
[tube]http://www.youtube.com/watch?v=MWzeInQaUk4[/tube]