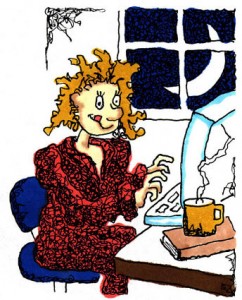 I have a pack of papers my mother gave me of things I wrote and drew in elementary school. It's nice. Not only does reading them make me laugh, but reconnecting with little Betsy has helped me understand things I didn't know before.
For example, I thought I remembered when I decided to be a writer. I was in my early twenties, driving in to work, thinking about Bruce Springsteen. I often thought about Bruce Springsteen in my early twenties (don't judge me). I was thinking about how he decided he wanted to be a rock star and how, having made that decision, he just went for it. I remember thinking, "well, I can't play the guitar, but I like to write. I think I'll be a writer." And I started trying in earnest to write books and stories.
Later, when I was no longer in my early twenties and Bruce and I had gone our separate ways, I thought youthful infatuation had been a pretty stupid reason to make a life-altering decision. Doubt grew. Maybe I wasn't a writer after all? Then I realized I really did like writing anyway, so what the hell. And I kept at it.
But I always thought my decision to be a writer had been because of Bruce Springsteen.
Now, looking through my elementary school papers, I can see that my love of writing came long before my infatuation with Bruce.
There are so many stories in that pack of papers – way more than I remembered. Little Betsy was creating many different worlds with her number 2 pencil. Yes, the stories were probably the result of homework assignments, but she – I – was happy to write them. You can see that. You can also see the freedom there. I didn't care if they were good or bad. Of course I was going to write stories. Of course I was going to draw pictures. Of course I could do that and I wanted to do that.
Now I can see that Little Betsy was always a writer. She just forgot for a while. And the decision that I made on the way to work that day was a decision that had always been there and was just waiting for me to find it again.
If only I could explain the saxophone lessons….