Betsy! Psst! Betsy!

*jumps* What? Who's there?
Betsy! Over here!
*looks around* Blogosphere? Is that you?
Of course it's me. Keep your voice down.
What? Why?
Just do it. *Blogosphere slinks further into the post* *glares* Where in the hell have you been?
*blush* Well, it's been such a rough couple of weeks, and..
Rough couple of weeks. Yeah, right.
Well it has!
How're those Sims and their pets doing?
How did you–
Forget it! *slashes many hands in air* We don't have time for this. She'll be here any minute.
She? *crosses arms* She, who? What are you talking about?
*Blogosphere gazes furtively over a few shoulders* I lost her at the eHarlequin site, but she'll find me soon…
Blogosphere! *stomps foot* Who are you talking about?
Your Muse!
My….what?
You heard me. Your Muse! You haven't done anything with her in so long that she tracked me down through your blog. Now I can't get rid of her!
Huh. I wondered where she'd gone off to. My brain's been feeling pretty empty lately.
Did you hear me? I can't get rid of her. She keeps wanting to chat and look at pictures and network and–
Blogosphere? Sweetie, are you in here?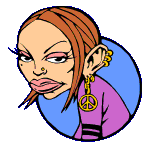 Oh, SHIT!
Blogosphere! Language! *Betsy turns while Blogosphere cowers behind her*
Blogosphere? I'm sorry that I got hung up over at eHarlequin, but… *Muse enters the post* *sees Betsy* *stops* Oh. Hello.
Muse? What are you doing chasing the Blogosphere all around?
*Muse clasps hands behind back and draws line with her toe* I was bored.
Bored? But–
You never take me out anywhere! You never let me do anything! You promised me NaNoWriMo–
Hello! The POWER went out!
Yeah, yeah. Cry me a river. I needed some life. Some creativity. So I thought I'd hook up with the Blogosphere. The Blogosphere is fun!
*Blogosphere whispers* See?
Oooo…honey are you back there? *Muse tries to see around Betsy*
No. There's nobody here but us.
*Muse sighs* Story of my life. *shoulders slump*
Muse. *Betsy steps cautiously towards Muse* You're important to me. I need you.
Really? *Muse looks hopeful*
Really. Don't….don't leave me alone. Don't let me live in real life. What would I do without you?
So you'll….you'll write again?
I'm starting tonight. We'll do NaNoWriMo. We'll finish the book we've been working on. We'll write other books…LOTS of books.
*Muse draws line with her toe again* Promise?
I promise.
You'll let me play with Luc and Katie and Spot sometimes?
Sure. I'll even let you redecorate your room in my brain.
You will? *blinks*
Uh, sure. Just stay home a little bit, okay?
I was going to move in with the Blogosphere…
Say what?!?
Don't do that. Stay home with me and we'll really bust some writing moves.
Well…if you're sure. *Muse takes deep breath* Okay.
Sweet! *Blogosphere runs away from the post as fast as it can*
Great. *Betsy beams*
*Muse stands with hands on hips and looks around Betsy's brain.* What a mess! Doesn't anyone ever clean around here? And what's with all of the cat hair? Did they sleep on your head again? Now how am I going to find the Ikea catalog… *Muse begins going through the trash*
Ah. Things are back to normal.
>