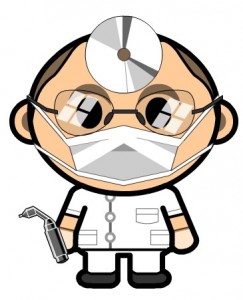 Here's a little stream of consciousness riff on my visit to the doctor's office this morning. Proving that you can find a blog post everywhere you go.
Time spent waiting to see doctor: 1 hour
Time spent with medical professionals (doctor and nurse): 30 minutes.
A fairly good ratio.
This was my first visit to a new doctor. My previous doctor left the firm unexpectedly due to illness and they kicked me to the curb. My doctor before that died unexpectedly from a blood clot. I spent some time while I was waiting hoping that I would not impact this new doctor's health in any way.
Other thoughts I had while waiting:
I hope he doesn't yell at me.
I hope they don't weigh me.
Today really is the first day of the rest of my life. I have the consequences of actions I've taken before, but that doesn't mean I can't change. The journey of a thousand miles really does begin with a single step. All I have to do is start. I'll have some obstacles to overcome, but if I eat that elephant one bite at a time I can do it.
I wonder if I know any more aphorisms.
Funniest moment:
Nurse (while weighing me): "Oh myyyyyyy…."
Me: "It's the shoes."
It's the SHOES? WTF? HAHAHAHA!
Most obvious moment:
Doctor: "I can't control your diabetes, only you can control your diabetes."
Me: "Yeah."
Because, see, I know that. I do know that. Of course I know that. But what I WANT him to say is: "Here's this little pill that will make your diabetes go away and let you eat anything you want to eat and it will also make you thin, rich and ten years younger." But you know what? The doctors never EVER say that. Bastards.
Upshot of visit:  I don't need to go on insulin right now, which is good.  I still have some options.  But I'd better get my act together pretty damn fast or it's not going to be pretty.
So….I guess I will try to get my act together. But if somebody hears that they've come up with a pill to let me eat anything I want and will make me thin, rich and 10 years younger, drop me a line, okay?  Thanks.