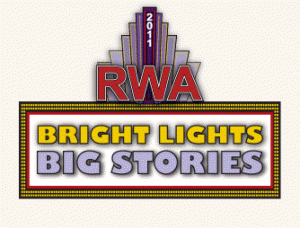 As some of you may know, I'm heading to New York City in less than two weeks to attend the RWA National conference. And in EXACTLY two weeks from this MOMENT, give or take an hour, I shall be sweeping majestically into the freaking Waldorf Astoria hotel as one of the attendees of the Harlequin black and white ball.
Um, 'scuse me?
In my mind's eye, I'm wearing a beautiful black dress (because, hello, white dress? Are you kidding me?). I am perfectly coiffed and made up. I walk with elegant ease in mile-high shoes. My skin is flawless.
And then I see myself tripping and falling on my butt right in the middle of the dance floor.
The RWA (Romance Writers of America) is the trade group for – wait for it – romance writers. And the national conference is the big enchilda in the romance industry. Very well-known authors will be there. Authors of all levels of experience will be there. Agents and editors from all over the place will be there. The hotel has been sold out for months. The conference itself is sold out, despite difficult economic times. There will be workshops and parties and opportunities for madness, mayhem, and shopping.
And I'm so far out of my comfort zone that I can't even see it from where I'm standing. (Hello, comfort zone? Are you there? *crickets*)
On the other hand, I'm also very, very excited about attending. I'm looking forward to meeting other Carina Press authors and editors I've only met through email. I'm hoping that I'm will learn something. I'll be able to wear a ribbon announcing my first sale and hand out business cards saying that I'm a romance author. I'll be able to talk about "my publisher", because I actually will have a book being published. I'll meet some of the wonderful people at Harlequin.
So, in two weeks, give or take an hour, I shall sweep majestically into the freaking Waldorf Astoria hotel. I will indeed be wearing a very lovely black cocktail dress (provided by my friend, Bookseller Ann). I will glide across the floor in dress pumps that, although not mile-high, are significantly dressier than anything else I've bought in a while. And my skin might not be flawless, but I do have babe-ilicious brown hair – again.
In other words, I shall look as good as a Betsy can look, and to that look I shall remain true for the entire evening. I shall be the Betsy of the Ball.
And I'll try not to fall on my butt.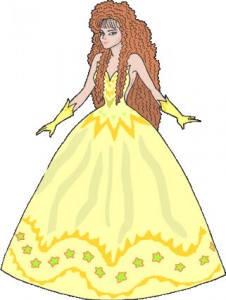 Stay tuned for more "Betsy Goes To A Conference" updates in future blog posts.
Woohoo! New York City!