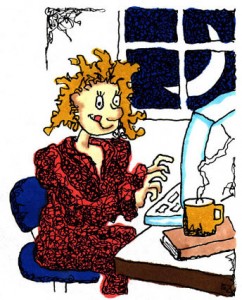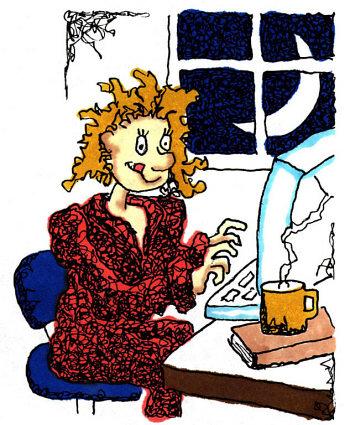 As social media in all of its many, many, MANY forms has become a major part of my life, I, naturally, felt the urge to write a poem about it. And I am happy to present this fine work of literature to you, my dearest, closest friends.
PS – note the colon in the title of the poem. When I was an English major we rocked the place if we put colons in the title of anything.
PPS – please feel free to set this to music if you'd care to.  I think it calls for heavy metal.
Social Media:
A Short Song of the Internet
by Betsy Horvath
On Facebook I stare at my wall
and wonder if I know you all.
I go to Twitter, thence to tweet
of what I wear and what I eat.
I think I'll grab a book or two,
then head to Goodreads to review.
My blog post page is blank and white
I've not a clue of what to write.
I'll visit other blogs instead
and comment there on what was said.
Then check on my email accounts
(between the five I tend to bounce).
Social media is good, it's true
To keep in touch with all of you.
But writing I have nothing done
Except the poem I have just spun.
So I guess I'd better go turn the internet off now.
Thank you.