Hello, my friends!  I'm pleased and proud to tell you that I have a NEW book out!  A NEW one!  I KNOW!  I'm as shocked as you are!
Choosing Love is finally out in the wild, and available now wherever fine ebooks are sold!  Paperback version coming shortly.
Here's the information –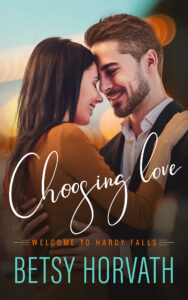 Sometimes the best choice is simply to follow your heart.
Jenny Kline's whole life is centered around chasing her dream to be an artist—a painter. Sure, she works two jobs to make ends meet, but she tells herself the life she's building will be perfect—until she finds out she's lost not one of her jobs, but both of them. At first, the offer of employment as a temporary receptionist at the Hardy Falls police department seems like a no-brainer. That's before she's stuck behind a desk all day dealing with cranky townspeople and lusting after a certain gorgeous cop she's been trying to ignore for years.
Officer Harry Newman has been avoiding Jenny since the moment he joined the Hardy Falls police force. After all, he might think she's sexy as hell, but her mother is the chief of police—and his boss. He knows it's better to stay far away, but that's hard to do when Jenny is in his personal space every day. She's a temptation, and all Harry wants to do is get closer—to hell with the consequences.
Despite their best intentions, the chemistry between Harry and Jenny sizzles. Then Harry's past raises its ugly head, Jenny tries to help, and their mutual attraction explodes into a night of passion neither of them expected. Will they be brave enough to continue what they've started? Can Harry put the past behind him and walk into the light? And will Jenny be able to chase her dreams and hold on to Harry at the same time?
Welcome to Hardy Falls, Pennsylvania, where even the best-laid plans have a way of flying right out the window—especially when love comes knocking on the door.
Click HERE to read the first chapter
Available Now

Huzzah!
I also thought I'd better mention that I've re-numbered the books in the Hardy Falls series–just in case someone notices and is confused. There are a couple of reasons for doing that, but mainly I went to the trouble because Amazon doesn't recognize the ".5" books as part of a series.  I figured I'd make the change now before I got too much further along.  The number changes are still filtering through the various vendors (I'm looking at you Apple Books!), but eventually they'll all be whole numbers the way God–and Amazon–intended.
By the way, just as a side note, do you know what you SHOULDN'T do when you're trying to finish up the millions of little tasks needed to get a book out?  Tasks that all require internet access?  You SHOULDN'T cut through your internet cable because you wanted to do a little yard work to decompress and got overenthusiastic with the hedge trimmer.  That's bad!
Sigh…
But I don't care because the book is out!  I hope you enjoy Jenny's and Harry's story as much as I do!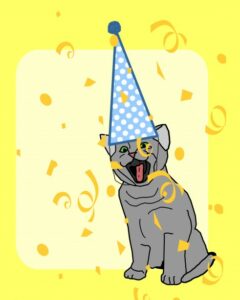 I'm tired.