My friends, I am pleased and proud to tell you that Believing It, the latest book in my "Welcome to Hardy Falls" series is LIVE!  LIVE, I TELL YOU!  Maybe I'm not alive at this point, but the book is birthed and out in the world!  And it is now available as an e-book wherever fine e-books are sold.  This is book 0.5 in the series, so it is the prelude to Handling It (book 1).
Without any further ado, here's the information!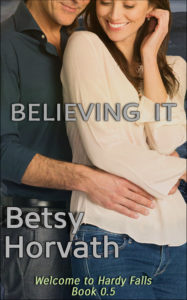 Sometimes you just need a second chance to get it right.
June Esperanza has managed to make a pretty darned good life for herself in the little Pennsylvania town of Hardy Falls. True, she'd never intended to stick around this long, but it all worked out for the best, didn't it? After all, she has a job she enjoys, friends she loves, and a place in the community. So it shouldn't matter to her in the slightest that Calvin Hardy has decided to move back home fifteen years after he dumped her on her butt and hit the road. She could care less what he does.
Calvin knew he'd made the biggest mistake of his life almost as soon as he drove away from June, but he also figured she'd never forgive him. How could she when he'd hurt her so badly? He never expected that, years later, he'd find himself divorced from a loveless marriage and coming back to Hardy Falls to help deal with a family crisis. He never thought that once he saw June again, he'd want her more than ever. Now he's determined to convince her to give him another chance. If they can get beyond his mistakes of the past, maybe they can finally have a future–together.
June's not sure it's a good idea to believe anything Calvin says, let alone learn to trust him again. Does she even want to try? One thing's certain–there's no way she'll let him hurt her this time around.
Welcome to Hardy Falls, a little town nestled in the Pocono Mountains of Pennsylvania, where love has a way of sneaking in and catching you by surprise–even when you thought you had locked all the doors.
Click HERE if you want to read the first chapter.
Believing It is available in the following stores (it's in others, too, but I didn't want to list them all) –
Amazon US  |  iBOOKS  |  NOOK  |  KOBO  | ARe
Amazon.uk  |  Amazon.au |  Amazon.ca  |  Amazon.de
The paperback version's coming soon, if anyone cares.
*Whew*
I thought this whole publishing thing was going to kill me.  And just who decided it would be a good idea to do all of this work the same week I was trying to finish my taxes?
But the most important thing is–it's out!  Hooray!
In case you're confused, I know I said in another post that I was going to do a pre-order, but it turns out I don't have a clue about what I'm doing, and setting up a pre-order takes planning and confidence.  That wasn't in the cards this time around.  But maybe for the next one…
All in all, I'm pretty pleased with how everything turned out.  And I think the finished cover looks pretty.  If you take a glance at the sidebar, you'll see I updated the Handling It cover, too.  Of course, I just put through a test purchase with Amazon, and it looks like they have the old cover in the actual e-book file, even though I changed it and the preview showed correctly.  *sigh*  It just goes to show you – it's always something.  (I know it's not that big of a deal, but I wanted everything to be perfect.  And it's not.  Like life.)
The next newsletter will come out tomorrow!  Now I'm going to go to bed.
Fly free, "Believing It."  Fly free.