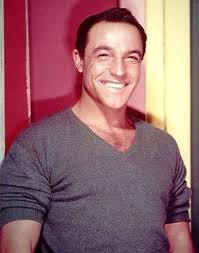 I've been thinking about Gene Kelly lately. There are several reasons for this:
1) I've been arguing with my mother about which Gene Kelly movies are the best. She says "Summer Stock" and "Brigadoon". I say "Singin' in the Rain" and "The Pirate". She tolerates "Singin' in the Rain" and she hates "The Pirate". I call her a cretin.
2) It's been raining at the Palatial Horvath Estate almost constantly for the past few weeks. Ergo, I have been, um, singing in the rain.  (da-DAH-dum)
3) Gene Kelly was really hot.
I shouldn't argue with my mother too much about Gene though, because she's the reason I developed a lifelong love for the man at the tender age of 14 or so. This was about the same time she introduced me to the old Harlequin romances. Mom might be misguided at times, but she does have good taste when she chooses to apply it.
I think I love almost all of Gene Kelly's movies. There were a few unfortunate choices in there, but even a movie like "It's Always Fair Weather" features magnificent dancing. For example, that movie has Gene dancing with a trash can lid on his foot and, later, tapdancing in roller skates. Roller skates, people!
Because I have a blog and my mother does not, I thought I would share two of my favorite Gene Kelly dance routines from two of my favorite Gene Kelly movies.
First, "The Pirate Ballet" from the movie "The Pirate". In this movie, Gene plays a wandering actor named Serafin who impersonates the ruthless pirate Mack The Black Macoco to impress a beautiful girl (Judy Garland). The ballet is her fantasy of Serafin at his most dangerous, with dancing of breathtaking athleticism. Plus, Gene wears tiny shorts.
(PS – this clip includes the scene leading into the ballet.  The ballet itself really gets underway about about the 4 minute mark)
(PPS – the title the person gave this clip when they loaded it on YouTube made me laugh)
[tube]http://www.youtube.com/watch?v=5gx7LoO_t44[/tube]
Next, "Moses Supposes" from "Singin' In the Rain". In this movie, Gene Kelly is a silent film actor trying to make the transition to talkies. I went with this routine rather than the more famous "Singin' in the Rain" one, because I absolutely love Gene's dancing. Donald O'Connor's no slouch either. By the way, if you've never seen "Singin' in the Rain", it's very funny and well worth the watch (uncut and without commercials, of course).
[tube]http://www.youtube.com/watch?v=tciT9bmCMq8[/tube]
So there you go! Two of my favorite dance routines from two of my favorite Gene Kelly movies. And now I just want to DAHNCE!