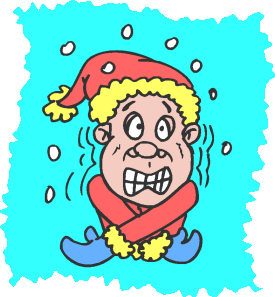 Hello, everyone!  It's so good to be talking with you all again.  I had an unexpected blog hiatus when the snow storm from hell hit on Saturday and took my power out for five days.  And, since it was a COLD five days, I was more concerned with getting under enough blankets than finding an Internet connection.
But every cloud has a silver lining, and I have turned my recent Arctic adventure into a blog post.  So here you go – 12 ways you can tell the electricity's been off too long when it's cold outside.
You sleep fully clothed, including socks, hat and mittens.
You think six blankets aren't quite enough.
You judge the temperature in a room by whether or not you can see your breath.
Upon rising, the first thing you do is put on your coat.
You are giddy with excitement about your new head light – a flashlight that straps to your head (it really is awesome).
You try to encourage cats to sit on you so you can steal some of their body heat
You get tears in your eyes at the sight of a warm cup of coffee.
You're disappointed when the office is closed for power outages because you were counting on going in to work.
You take your cell phone, iPod and Kindle out for a ride in the car to charge them and strategically plan which one gets the outlet for which part of the drive.
You think cold Dinty Moore beef stew right out of the can doesn't sound all that bad.
The condensation on the windows of your house is because of the temperature INSIDE.
You go insane and purchase 20 additional pairs of socks.