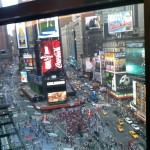 The 2011 RWA National Conference is over and I'm back at home, disoriented.
The last day of the conference was all about workshops for me. I stuffed my head so full with knowledge that it still hurts. Other, braver, authors were making pitches to agents and editors. Since attending the conference, I now understand better what a pitch actually is. I thought I'd better not pitch until I knew how to do it. Smart.
Friday night was the Rita and Golden Heart award ceremony and everyone was dressed to the nine's. Here is Bookseller Ann a/k/a Bookaholic Ann all glammed up to attend.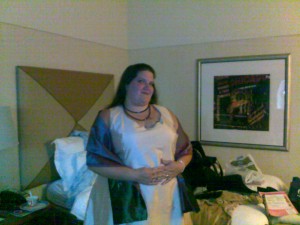 The Rita and Golden Heart awards ceremony was alternately moving and funny. Meg Cabot did a terrific job as Mistress of Ceremonies and a good time was had by all.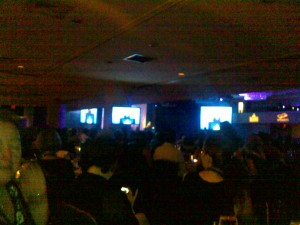 And now here I am, back at home, trying adjusting to normal, mortal life. So I've been spending a lot of time reflecting on the experience.
First, I was unprepared for the impact of being with so many women. By and large, all of the attendees, organizers, and presenters were women. There were women of every size, race, and ability. There were women of every personality type, and of every level of experience.
Most of the attendees and presenters were gracious, supportive and kind. There were a few who were rude and bitchy, but they were definitely the exceptions (and with over 2000 women attending, that's saying something).
Most of the people at the conference loved the romance genre as much as I do. They understood how important it is. They "get" the influence the genre can have in everyday lives. Nobody mocked the romance genre, because we are the ones creating the genre. Nobody tried to put it down or denigrate it. Nobody suggested that writing romance was not "really writing". The people at this conference respect the romance genre. Being with them was validating and empowering.
I also felt validated and empowered by the many workshops I was able to attend. In some cases the presenter's points confirmed decisions I had made at various times regarding my career or my craft. In some cases a new perspective was brought forth. At all times I was treated with respect and camaraderie, even though I am at the beginning of my journey.
So the verdict? The RWA National conference was well worth the effort, money, and panic sweat. I got to meet so many lovely people. I got to actually greet friends I had only known from the Internet. I had the opportunity to talk about nothing but romance for four days in a row.
Priceless. Galvanizing.
Guess it's time to get back to work. 😀
Bye, bye, NYC!  Annaheim in 2012!  Woohoo!