So, you may or may not know that I am attending the RWA National Conference.  This event has been preceeded by much anxiety, but today I left with Bookseller Ann to the BIG city – New York City!
We decided to take a limo because we don't live far enough away to fly and the bus didn't appeal. And no WAY am I driving in New York. 
Thank you, limo driver, for getting us there safely!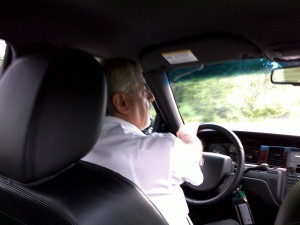 Oh, look!  We're getting near the city!  Woohoo!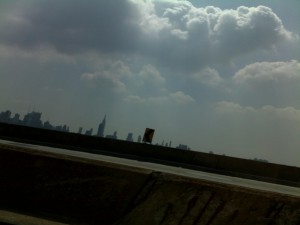 Oh, no!  Will we get there?  Will we get through?  Will we stuck in the tunnel?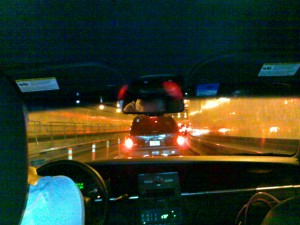 Never fear!  After a few tense moments, the limo driver weaves through traffic (scary – I kept my eyes closed) and delivered us safely to the hotel! 
The hotel is quite massive and looks just a little bit like a scene from a Star Wars movie.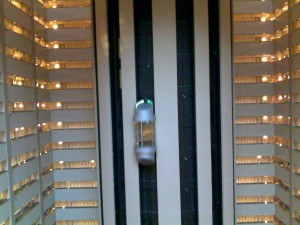 The room is very, very high up.  It doesn't have a view of Times Square, but it's close enough!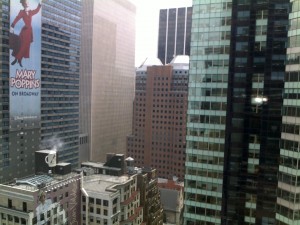 Hey, look at all of the little people down there.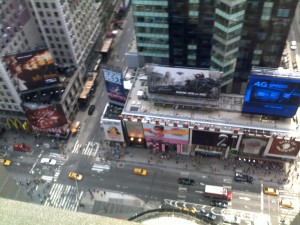 After settling in a little bit, I met wonderful people from Harlequin's digital team who led me on the path to digital righteousness, and taught me a lot of stuff.  Then it was time for the Literary Booksigning.  500 authors. Open to the public.  Mass hysteria. Dogs and cats sleeping together.  Think I'm lying?  Look…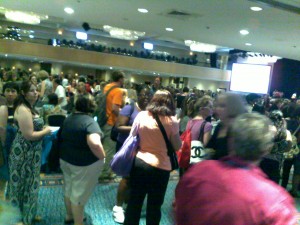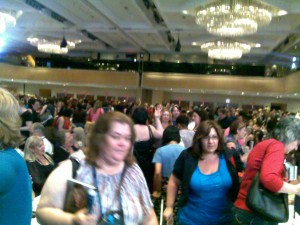 But it was awesome because I got to meet Jennifer Crusie, Anne Stuart, Nalini Singh and many other wonderful authors.  I had some complete fan girl moments, spent way too much money (for a good cause), and go many autographed books.
And now here I am back in the hotel room, blogging, Facebooking, tweeting, and looking forward to Day 2.
More to come….