Just a short post today, to say… I have an official cover for the book!!!  And here it is: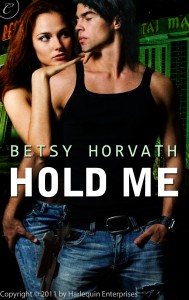 I think it's pretty darned gorgeous, and I'm very, very excited.  Carina Press always does such wonderful covers…  *happy sigh* (hey, that's my name on that thing! 😀 )
I also have official cover copy, and here IT is:
Katie McCabe's life is going nowhere fast when FBI Special Agent Lucas Vasco jumps into her car at an intersection. Luc, his undercover guise blown, is on the run from the Mafia and expects to be killed at any moment. What he doesn't plan on is finding himself attracted to the firecracker beside him. He feels compelled to protect her when her life is threatened, and insists she stay with him for her own safety.
After learning she has become the target of a psychotic hit man, Katie is whisked off to Luc's house to hide. Once there, she's shocked to discover that she and Luc have an unexpected connection—a connection Luc already knew existed, but withheld. Will their intense attraction reach flashpoint despite their misunderstandings and the pain of the past?
And the official release date is:  September 5, 2011.
HOLD ME. Coming soon to an e-reader near you.
Woohoo!