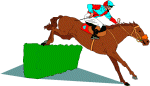 As you may, or may not know, last week I issued myself a challenge.  Basically, starting May 1st, I challenged myself to 1) write every day for 58 days, 2) write at least 1000 words a day (1500 words on the weekend), and 3) finish the first draft of my WIP before the RWA convention at the end of June.  Since today is the end of the first week, I thought I'd let you know how things are going.
First of all, I have to admit that I was on vacation this week so I didn't have the problem of fitting writing into my regular work schedule.  I did, however, have some other issues getting down to business, and I'll talk about those in my next blog post on Tuesday.
How did I do with #1? Did I write every day?
No.  I wrote 400 words on Sunday, May 1.  I did not write at all on Monday and Tuesday.  I did write every day for the rest of the week.  So my consistency left something to be desired.  Part of the reason is I was just plain tired.  Part of it was that I was out shopping for the RWA conference.  But regardless, I did not meet this particular goal this week.
#2 – write at least 1000 words per day, 1500 words per day on the weekend.
At the beginning of the week my WIP was at about 6,200 words. Today (before today's writing block), I am at 18,873.  That's about 12,600 words this week, or an average of 1800 words per day.  So even though my consistency left something to be desired, I did hit my word count goal for the week (and then some).  I have to admit that I probably was able to pull it off because I was on vacation, so once I actually put my nose to the grindstone, I had the time to keep it there for a while.
And how am I progressing towards #3?
Quite well, actually.  HOLD ME, the book coming out at the end of the summer, is about 104,000 words.  I'm aiming my work in progress to be shorter – probably around 50-60,000 words, or the length of a category romance.  That means I've made good progress this week.  I know there are a couple of scenes I'll eventually have to delete because the characters are changing as I work with them, but it's still moving right along.
So, all in all – a pretty good week.  And now next week the real challenge – fitting it all in with the day job. Wish me luck!  😀
How about you?  Did you issue your own challenge?  Are you moving towards it?  I hope so!  That way we'll both make it to the finish line.