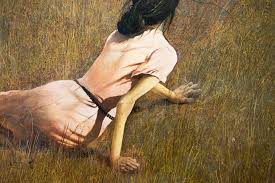 When last we heard from Betsy, she was sounding very determined.  And then she vanished from the face of the earth for several weeks.  If you know anything about Betsy, you know that this is definitely not a good sign.  Why it's almost as if she was trying to ignore flaws and cracks and crevices that were widening and becoming catastrophic and then it all exploded in her face!
Uh oh.  We'd better see what's going on….
Betsy is sitting in the soft grass beside the lake in her mind. The wind is blowing gently. Everything is saturated with color and seems to be more in focus than it has been as of late.