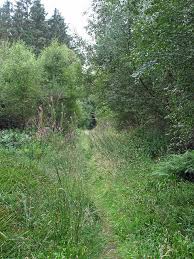 Last weekend, I found myself at a point in my manuscript that's, sadly, very familiar. I have found myself in the exact same place in all of the other books I've written (whether published or unpublished).
I realized I didn't know where the hell I was going.
Until then, I had THOUGHT I knew where I was going.
I was sure I had a plan. An outline, if you will.
I thought I'd put in all the footsteps and building blocks and whatnot to get to my destination.
I thought I saw the destination, and was working towards it.