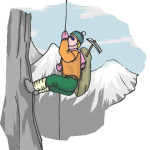 My dears, I have climbed the mountain this week.
I chipped at the rock of Amazon Kindle, breaking off enough pieces to give me toeholds so I could start scaling the sheer cliff face.
I pored through the underbrush of Kobo, slithering into the hidden clearing, pushing my way through despite the thorns piercing my skin.
I was almost smothered by the dense, choking weeds of Nook, forced to take up my machete and slash the fronds that bound me whilst bellowing my battle cry.