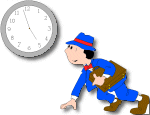 I've been doing some soul-searching recently, thinking about my life and where I've been and where I'm going.  Thinking about goals.  Thinking about challenges.
It's so easy to turn away from challenges, to stick with the normal and the mundane.  It's easy to believe that your life will just coast along in the same path forever.  But time passes and none of us lives forever and things happen and change comes.  And one day you'll wake up and say "hey? how did I get here?" (thank you, Talking Heads) 
So, what do you want out of life?