Betsy is on a Quest.  To reach the unreachable star.  No matter how hopeless.  No matter how far.  In short, to write productively and well and to become a successful indie authorpreneur ("success" as defined by, well, Betsy).  She has a Guide for her Quest – a white rabbit (who was once a white gerbil) named Harry.  Join us as Betsy's Quest takes over her blog and leads her down many a twisted and winding path.  It's turning out to be quite an exciting adventure, complete with villains and heroes.  And perhaps a little coffee.
Following are all of the posts for the Quest gathered together on one page for your reading pleasure.  They are in reverse order with the newest posts first, so you'll have to start at the bottom and work your way up if you want to read them in order.  Enjoy!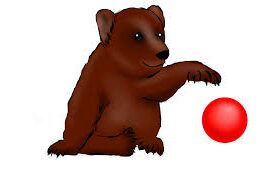 Betsy is climbing the mountain of her aspirations, again, struggling to reach the summit.  Again.  Except this time, unlike in the past, she isn't carrying just ONE boulder that is her work in progress, she is carrying TWO of them!  TWO works in progress!  What the heck!
Both boulders are important in their own right.(read more…)