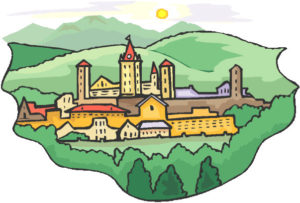 As I mentioned in my previous blog post, the novella I wrote last year and talked about frequently–nay, incessantly–here on the blog has FINALLY come out! My little boulder is all grown up and flying free in the world.  Er, rolling free!  Roll, little boulder!  Roll!
Starting Something is a Hardy Falls story FREE for all newsletter subscribers and not available anywhere else.  It features Sophie Barton, who has appeared with her two sons in previous newsletter articles, and Noah Chertok, one of June's old boyfriends who appeared in Believing Love. This novella will be the first of three stories about Sophie and Noah and their journey into love and relationship.
And here's the information –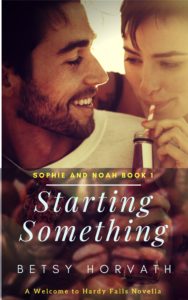 Sophie Barton moved to the little town of Hardy Falls, Pennsylvania after her marriage imploded, searching for peace for herself and her two young sons.  With so many problems and responsibilities on her plate, getting involved with her sexy next-door-neighbor isn't even a blip on her radar. Then a torrential spring rainstorm, a leaking bathroom roof, and a series of poor choices leave her stranded without a ladder and looking to him for rescue.
Noah Chertok is too busy keeping his family's contracting business alive to pay much attention to his pretty new neighbor and her ridiculously cute kids.  But neighbors help neighbors, and when he finds out she's got a problem, of course he'll try to do what he can.  Little does he know that taking that one step forward will find him firmly entangled with the little family next door.
Once the ice is broken, Sophie and Noah realize they are sliding into something neither of them expected. Then Sophie's past comes roaring into town, and her whole life is shaken. Can she take a chance again with Noah?  Or is it simply too much of a risk?
Welcome to Hardy Falls, Pennsylvania, where sometimes things start before you even realize what the heck is going on.
You can get this novella for free when you click HERE and subscribe to the newsletter. There are also a number of articles from The Hardy Falls Gazette already posted, and I have plans for more special things in the future!
I hope you join us!