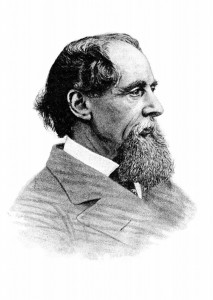 Thanks to a wicked Christmas cold attacking my throat and some rather stringent demands from my day job attacking my sanity, I don't have many creative brain cells left to come up with a blog post today. So I've decided to share with you some wit and wisdom from Charles – Charles Dickens, that is.  Here are a few of my favorite quotes from this great novelist:
"I admire machinery as much as any man, and am as thankful to it as any man can be for what it does for us.  But, it will never be a substitute for the face of a man, with his soul in it, encouraging another man to be brave and true. "

The Wreck of the Golden Mary
You can encourage people through an email, but you need to be with them to hold on tight.
"I have always thought of Christmas time, when it has come round…as a good time; a kind, forgiving, charitable time; the only time I know of, in the long calendar of the year, when men and women seem by one consent to open their shut-up hearts freely, and to think of people below them as if they really were fellow passengers to the grave, and not another race of creatures bound on other journeys."

A Christmas Carol
Just remember – we are all pink on the inside. And the fact that you can afford a great funeral for yourself won't get you out of attending it.
"No one is useless in this world…who lightens the burden of it to anyone else."

Our Mutual Friend
It doesn't matter what we do for a living. Our real job is to be a blessing to each other.
"Have a heart that never hardens, and a temper that never tires, and a touch that never hurts."

Our Mutual Friend
As we move into the brave New Year of 2012, this is my wish for all of you and for myself as well. May we have hearts that never harden, tempers that never tire, and touches that never hurt.
Indeed.