Hello, everyone!  It's been a very busy couple of weeks here at the Palatial Horvath Estate, but I'm delighted to let you all know that the next TWO books in the Hardy Falls series are out and available now!!!
First, Trusting Love – Welcome to Hardy Falls book 2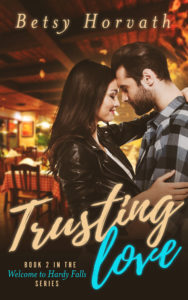 Her life is falling apart. He doesn't want any complications. Obviously, they're a match made in heaven.
Josie Kline used to think she had things under control. That was before she got laid off from her job, kicked out of her apartment, and found herself driving through the Pocono Mountains of Pennsylvania in the middle of a surprise blizzard.
When she slides, literally, into the Country Time Bar and Grill, she discovers not only a haven from the storm but new purpose—helping to save her hometown's landmark business from financial ruin. Now, if she could stop thinking about Mateo Guerrero, the darkly handsome, yet incongruous dishwasher, everything would be great. Doesn't she have enough problems?
Mat is still surprised to find himself working as a dishwasher/bartender in Hardy Falls after leaving a broken relationship behind in Texas. The last thing he wants to do is get involved with a beautiful stranger who blew in with the storm and stayed to be a thorn in his side. Josie has trouble written all over her, and Mat refuses to risk his heart again. Too bad she's as enticing as she is annoying.
Once Josie and Mat succumb to their overwhelming attraction, it's supposed to be a casual, short-term fling. But the deeper they get, the harder it becomes for either of them to walk away. Then, just as everything looks like it might work out, the ghosts of Mat's past raise their heads, jeopardizing any future he and Josie may have together—and any hope they have for a lasting love.
Welcome to Hardy Falls, Pennsylvania, where sometimes love can pave the way for a new beginning—as long as you're brave enough to accept the challenge.
Click here to read the first chapter.
Available at:
And also available is Expecting Love – Welcome to Hardy Falls book 2.5 (this is a novella, so it's shorter)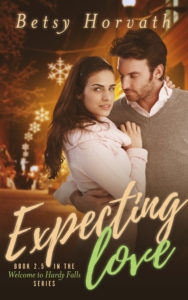 Two couples just starting out. Two life-changing surprises. Sometimes love gives you more than you bargained for.
Hannah Frederickson always thought the only family she'd have would be the people working for her at the Country Time Bar and Grill. She's thrilled when, just a few months after realizing her bartender, Deacon Black, is also the man of her dreams, she learns her life is about to change yet again. But why isn't Deacon as delighted as she is about the news? Didn't he want this to happen?
June Esperanza has been taking care of herself for a heck of a lot longer than she's been employed at the Country Time. She's not about to stop now, not even after finding a second chance at love with Calvin Hardy. Then June discovers she does not have a stomach bug, and everything changes. When it comes down to it, can she count on Calvin? Or will she have to deal with this the way she's handled everything else in her life—alone?
As Christmas draws near in the town of Hardy Falls, two couples grapple with the unexpected. Will Deacon embrace Hannah and their new adventure or let his fear and doubt rip them apart? Will June finally bring Calvin into the center of her life or push him even further away? Are any of them ready to face the challenges ahead?
Welcome to Hardy Falls, Pennsylvania, where love can take turns you didn't see coming. Better just hold on for the ride.
Click here to read an excerpt.
Available at:
They're out!  The ebooks are flying free!  And they're available everywhere!
Well, okay, they're not live on Nook yet, but that's only because Nook is the bane of my existence and is taking longer than a geriatric sloth to complete their processing.  I didn't want to keep holding up this post waiting for them since God only knows how much longer it will take.  [Updated 12/29/17 – the Nook publishing process FINALLY finished, so the books are all up on Nook now, too]  I also have to figure out how to publish on Google Play, which looks like it will be a real treat (sarcasm).  Paperbacks are in process and will be available soon – I'll let you know when they are available.
PS – Handling Love and Believing Love are once again available everywhere and are no longer exclusive to Amazon. In case anyone is interested.
PPS – if you happen to read the books, please consider leaving an honest review on any of the stores or on Goodreads.  Your reviews help other people find the books and are very important.  I'm grateful for every one my books receive. (I really am).
One day, I'll get my act together and figure out how to release and launch a book.  But it appears that today will not be that day. Ah, well.  Mistakes were made, but lessons were learned.  And that's all we can ever hope for.
Most importantly…the books are out.
Now, I'll get back to writing the next one.
And figuring out Google Play.
But maybe I'll dress the cats up in party hats first.