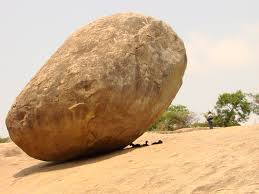 When we last left Betsy, she was ready to start again after a particularly difficult year. But it doesn't bode well that the blog was silent last week, does it?
As we join her and Harry, the white rabbit who is her Guide on her Quest to become a successful independent author, we find them standing at the foot of a tall mountain gazing up at an extremely heavy boulder. What is going on?
Let's see…
*Betsy pants and leans against the boulder* I…can't…get it…moving.
*Harry settles back on his haunches* Try again.