Hello, everyone!  It's been a very busy couple of weeks here at the Palatial Horvath Estate, but I'm delighted to let you all know that the next TWO books in the Hardy Falls series are out and available now!!!
First, Trusting Love – Welcome to Hardy Falls book 2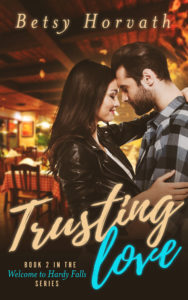 Her life is falling apart. He doesn't want any complications. Obviously, they're a match made in heaven.
Josie Kline used to think she had things under control. That was before she got laid off from her job, kicked out of her apartment, and found herself driving through the Pocono Mountains of Pennsylvania in the middle of a surprise blizzard.