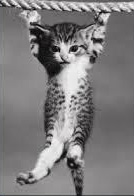 I was on vacation from the day job last week.  When I scheduled the week off, I intended to spend it writing, except for two appointments I had scheduled for my elderly mother.
Ah, the best laid plans…
By the time the week–my blessed week–finally arrived, it had somehow transformed into nothing more than a fun-fest of appointments.  I had two, sometimes three appointments a day, and they weren't short ones, either.  I was having some medical testing done (don't worry – everything seems to be fine), so on a few of the days I had to be at the hospital or outpatient center for hours at a time.  I still had to cart Mom around to where she needed to go.  I had to take the cat to the vet.  I even had to sit at the DMV to renew my license.  Not exactly the stress free time off I had planned!