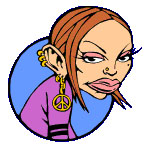 Hi, Betsy
Oh hey!  Hi, Muse!  How are you?
Fine.  Um.  Nice to see you.
You seem a little uncomfortable, Muse.  What's up?
I have to, um, tell you something.
Oh.  Well, go ahead.
I'm, well.  I'm, um, seeing Coffee.
You're…what?
I'm seeing Coffee.  We're kind of, you know, dating.
You're dating Coffee?  I thought you were dating the Blogosphere.
Oh, well yeah.  I see Blogosphere sometimes too.  But he's so controlling.  "Do this.  Go here.  Look at this." WhatEVER.
Okay, but–