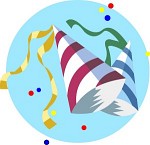 Don we now our gay aparrel….
Blogosphere?
Fa la la la la la la la la…
Blogosphere? What are you doing?
Hey, yo. Bets. Pretty good, eh?
What…what is all of this?
I'm decoratin'
Decoratin'? *shakes head* I mean, you're decorating?
Yeah.
And singing…Christmas carols?
Yeah.

Um…why?
Because…*turns. stares* Hello, I'm getting ready. Duh.
O-kay…Ready for what?
For your countdown. You know. The countdown to your book release day on September 5.  HOLD ME.  Labor Day.  Countdown.
*gasp* You…you remembered? You remembered THE day?