I work. I write. I work at working. I work at writing. Sometimes I try to work on both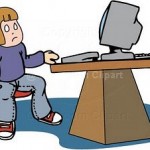 of them in the same day.
I've worked at working a long time. I've worked at writing even longer. And even though I'm not a best-selling author (yet), I have a few thoughts about trying to fit the two of them together. Not that I actually DO these things all the time, mind you. But at least I'm starting to recognize the important issues, at least for my own life.